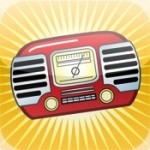 I have had little to no problems with FStream since recommending it for streaming The Ticket on your iPhone.
But, I am always looking for new tech. Today a program, TuneIn Radio went on sale in the app store for 99 cents. Being too cheap to pay for WunderRadio, I thought why not give TuneIn Radio a try?
UPDATE:
TuneIn has been purchased by RadioTime (a Dallas-based company).
I downloaded the app and it asked to use my location. Once I allowed that I was given a screen to browse for the station I wanted to listen to.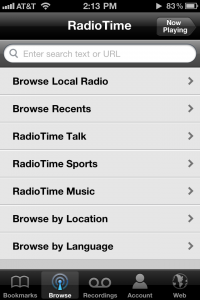 I chose RadioTime Sports from the menu. (RadioTime also happens to be a Dallas based company)
Once you choose The Ticket you will be taken to the live stream page.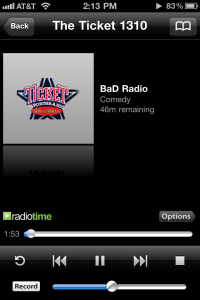 This is where the fun begins. You can scrub through the audio once a little buffer builds up. Notice the rewind in the bottom left corner. It will just you back in 10 second increments. You can also pause the audio and jump back to the beginning of the buffer or to the end of the buffer. Pressing the "record" button will start recording the stream from the beginning of the buffer. The "options" button on the bottom right gives you access to a few station specific options.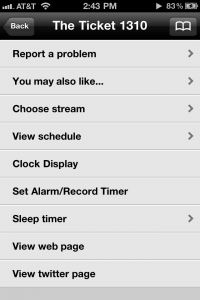 You will notice on this page options for scheduling recordings.
The app also supports multitasking. This means you can run it on your phone and do other things at the same time.
My suggestion? Get to the check cashing place and pony up for this 99 cent app.
3 COMMENTS