See most recent apps for streaming the ticket post.
Spent a little time today with some apps for the iPhone to see if I could get anything actually streaming to the thing. Success and it is free.
1) Download the app "FStream", clicking this will open iTunes link to app.
2) Once installed, press "favorites", then press "edit". Press the plus sign next to "Add new web radio". Now look at the image to the left, the URL that you want to use is:
mms://uni5.susq.streamaudio.com/KTCK_AM
mms://live.cumulusstreaming.com/KTCK-AM
or
http://player.cumulusstreaming.com/stations/KTCK-AM/PubPoint.asx
3) Press the save button, go to the apps home page and touch text that says "Sports Radio 1310 – The Ticket", and BOOM!
Now you have access everywhere.
UPDATE:
I, myself, checked this out today as well and am having no luck getting anything but a disconnected message. I will keep searching for a stream that will work.
In the meantime if anyone else finds an iPhone app to stream with, let's hear about it.
DOUBLE UPDATE: Seems the good ol' Ticket actually switched their streaming service. They are now streaming from Cumulus Streaming instead of StreamAudio. So just change the URL and you should be good to go!
CUMULUS, THE POWER OF RADIO…
And as Nick Burns, your company's computer guy would say,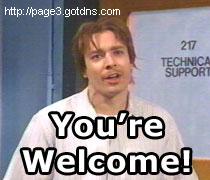 56 COMMENTS