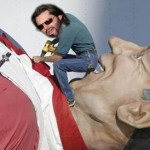 He welcomes the Musers to the new cinco de mayo.
Big Tex said due to the recession, he had to donate blood and sperm.
After a couple broadcast messages to the visitors, including diarrhea and features at the fair, he asks if the Musers are going to come try fried butter.
Then Big-Tex talks to a family of Mexicans and asks them to supervise all of their kids.
Our player requires Flash. Non-flash devices use the Listen/Download link below.
Listen/Download Audio[adrotate group="1″]