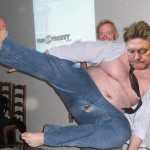 The final game of the season was a complete karate chop to the family jewels…
Fake Jerry is pissed. Fake Wade is happy and positive.
Fake Jerry asked Wade to come up with 10 reasons why he shouldn't fire him. His list was all positive outlooks.
During the call someone calls in and Jerry tells this person a new job might be on the way.
Probably the last time we hear from these guys this season.
Our player requires Flash. Non-flash devices use the Listen/Download link below.
Listen/Download Audio[adrotate group="1″]