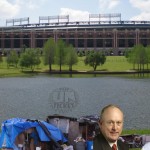 With the Rangers up for sale soon, Musers had fake Tom Hicks on to talk about it.
Fake Tom Hicks just went into all the things he's bought and sold.
All very odd things, like the stuffed body of Amelia Earhart.
Then he goes into Ron Washington talk and how he's homeless.
He ends it up with admitting he's the 12th woman that slept with Tiger Woods.
Our player requires Flash. Non-flash devices use the Listen/Download link below.
Listen/Download Audio[adrotate group="1″]