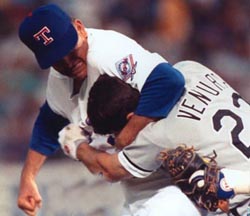 The Fake Nolan Ryan called in to explain how he stopped Milton Bradley from beating the local news guys who were bashing him on television.
Milton Bradley evidently was listening to a local news channel talk highly of Josh Hamilton, only to follow up the praise with a tongue lashing about Bradley. Rather than handle it like a normal human, he chose to charge the press box.
Our player requires Flash. Non-flash devices use the Listen/Download link below.
Listen/Download Audio[adrotate group="1″]
1 COMMENTS