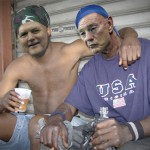 Wins equal a happy coach and owner. Cowboys beat the Eagles in Philly and fake Jerry & Wade had a lot to talk about today.
Jerry talked about how we won in Philly with a Mexican at QB.
Wade told stories of hunting and food, as usual.
A suspected fog horn was actually Wade in the stall.
The liberty bell's crack grew bigger from Wade's head.
(I included the Green Bay promo for it's shocker-ness)
Our player requires Flash. Non-flash devices use the Listen/Download link below.
Listen/Download Audio[adrotate group="1″]
1 COMMENTS