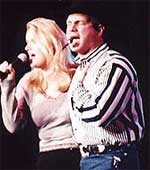 Chris Gains, whoops, I mean Garth Brooks and Trisha Yearwood have some good "country lovin" and they decided to sing a special song about their love for one another.
I can do nothing but picture Garth with one of those stupid teeny bopper headset mics wrapped around his face singing. I guess they're convenient, but damn… get a real mic please!
obviously an old bit, but notice how Jub Jub and Junior are much more into the Gordon bits than today. I guess things get tired after so many years.
3 COMMENTS