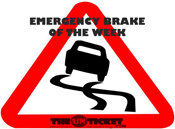 Emergency Brake of the Week – 4.2.10
Norm Introduction Confusion
Rhynes & Corby fumble
Gordo Goes Blank
The voting was epic. George & Junior hate it, but the P1's love it! Junior sounds like such an old man complaining. The one segment on the Ticket the P1's get to have fun with like the old days and here's Spank trying to rip it out. What happened to being the AM "Courage" Boys, Spank?
Congrats to George's Penile Implant for the win.
Our player requires Flash. Non-flash devices use the Listen/Download link below.
Listen/Download Audio[adrotate group="1″]
13 COMMENTS