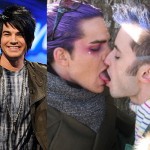 **Major Announcement is…….as exciting as Ticket announcements, we're back.**
Sorry for the disappearing act. Was out of town and didn't plan ahead. Will do my best to catch up with everything.
****
Musers found out they have a ticket's own guest on American Idol, Chris McKinnley.
He's on the show with the name of Adam Lambert.
He LOVES Simon. It makes 'it' hard. He want's to show him what's deep inside.
"but sex" ?? HAAAAAAA! Great play on words.
He plays his rendition of Johnny Cash's "Ring of Fire".
Then performs his very gay Garth Brooks tune live for the Musers.
Our player requires Flash. Non-flash devices use the Listen/Download link below.
Listen/Download Audio[adrotate group="1″]
1 COMMENTS