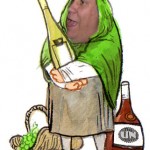 While Junior Spank Miller was out today, Jaa and Gordo had "Character Talk" during the 8:40 bit, which carried over into part of Gordo's Corner.
It was a great segment I've always wished for. Now if they can just take these suggestions and either find the old audio and replay them or have them repay a visit. It's what the listeners want!
What are your favorite characters?
Our player requires Flash. Non-flash devices use the Listen/Download link below.
Listen/Download Audio
Listen/Download Audio[adrotate group="1″]