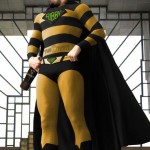 Musers had Ribby Paultz on to talk about their fight night this evening.
Ribby tells stories of him once being in the boxing world.
He even says he coached the great Mohammad Ali. "Float like a butterfly, sting like a bee!"
Then he ends the show in song.
Our player requires Flash. Non-flash devices use the Listen/Download link below.
Listen/Download Audio[adrotate group="1″]