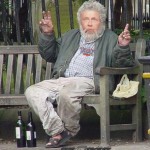 Senior moments are always funny to me. Especially when it involves Mike Rhyner.
Is he really tore up over this T.O. thing?
I might suggest it has nothing to do with being old…well, maybe a little. We know they went to see Gordon Lightfoot last night and since we know Rhyner loves crown, I'd like to throw out the thought that he's still drunk.
Let's all raise our whiskey, beer and bongs to celebrate Mike Rhyner.
"Let's go tewwwwwwwwwww…oh"
Our player requires Flash. Non-flash devices use the Listen/Download link below.