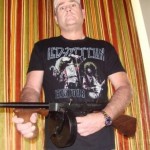 As BabyArm posted below, The Hammer is back on the air and you can listen on your iPhonG with the stream he posted.
If you are on your computer and want to listen through your PC, go here:
It's nice listening to good ole Hammer! Especially since it's dry dock over at the Ticket. Although, BaD is on today during afternoon drive time. I heard Norm will be afternoons, but who knows.
Here's good ole Richie Whitt's post about Greggo's new gig, which I'm sure he likes.
Quick Update…not sure if it's happening to others, but the stream seems to have died. They went to commercial and I can't get it to come back. Not just me either…they might need to restart something on their end.
6 COMMENTS