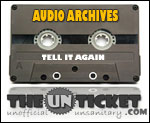 The Hardline has fun with real audio. Audio that really happened… on the ticket.
What you can expect to hear is:
Country Mike
Funny Caller Laugh
Dale Hansen shocker
Knoxy Clean Moment
Our player requires Flash. Non-flash devices use the Listen/Download link below.
For show podcasts and other segments, visit the uSave.it Archive page.