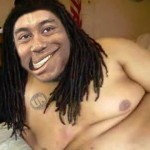 Funny that the first interview from Tiger Woods after he was beaten by his wife Elin Woods, would be with the Musers.
Tiger talks about how bad he's doing lately. Gaining weight and really letting himself go, but still trying to 'bang' every woman he can.
His description of a woman is pretty detailed. All the way up to a sign hung around the downstairs area every 28 days.
Tiger thinks Earl is the most disappointed, then goes on to describe his pops in his most unusual way.
Our player requires Flash. Non-flash devices use the Listen/Download link below.
Listen/Download Audio[adrotate group="1″]