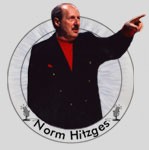 After Norm says "good morning" a few hundred times, he introduces the 'Goose" from the Dallas Morning "Snooze".
Norm starts off with the Cowboys and Goose answers before he can finish the question.
Goose says something about his 4 inches.
Norm asks about best teams and Goose talks about his dress.
Then Goose goes into some more predictions before Norm can say two words and he gives Norm a Norgasm.
Our player requires Flash. Non-flash devices use the Listen/Download link below.
Listen/Download Audio[adrotate group="1″]