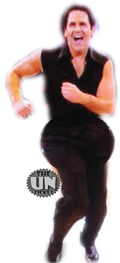 After the Mavs dropped the Spurs from round 1 in the NBA playoffs, Cuban needed to show off.
His first target was Junior, who is an avid fan of the "Spurrrrrrrrrrrrrzzzzzzzzzzzzzzzzz".
Then he makes an admission of paying off for the win.
He has an impression of Duncan, then he dances with his all too familiar Greggo piggy noises.
Our player requires Flash. Non-flash devices use the Listen/Download link below.
Listen/Download Audio[adrotate group="1″]