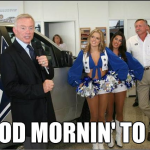 The Musers called the fake Jerry Jones to get his reaction to the big win over the 1-5 Panthers.  Problems with Jason Garrett's offensive coordinator program are revealed, and the fake Garrett stops by for a short, bug-filled cameo.
Our player requires Flash. Non-flash devices use the Listen/Download link below.
For show podcasts and other segments, visit the uSave.it Archive page.