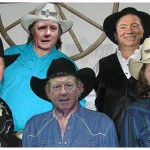 The new weekly 8:40 segment with Fake Jerry and Fake Wade calls the Musers to talk about the huge win on Monday night football against the Eagles.
Jerry talks about eating popcorn to keep the whiskey away.
Fake Wade steals the show, as usual. He talks about dipping popcorn in ranch. Buttermilk, again. Tells Jerry what will make you horny, but most of all, he tells of an unfortunate situation that happened while he was running down the sideline during the Felix Jones return for a TD.
Our player requires Flash. Non-flash devices use the Listen/Download link below.
Listen/Download Audio[adrotate group="1″]