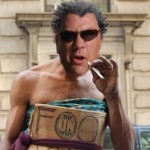 Doyle came in to talk this afternoon. This guy never fails. Always entertaining and full of fresh new drops.
Still have not heard what happened to Barb, if anything, but Doyle is just fine.
Our player requires Flash. Non-flash devices use the Listen/Download link below.
For show podcasts and other segments, visit the uSave.it Archive page.