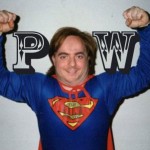 This one goes out to the Sturminator. Get your POW POW ready Bob.
I heard you getting touchy about your 40 second question to Barry Sanders…which was up for e-brake today.
There's no doubt, Sturminator questions can be long…but he's not the only one who does it.
Let's take Curby Davidson from the Ticket, for example. He's talking to the great white hype, Toby Gerhart.
This quesh-ti-on clocks in at 1 minute 10 seconds. 30 seconds (new math) longer than Bob's!
Our player requires Flash. Non-flash devices use the Listen/Download link below.
Listen/Download Audio[adrotate group="1″]
6 COMMENTS