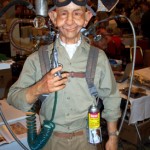 The Ticket Maintenance guy, Clarence Murphy, stopped by to tell some stories.
He tells of a story about his past career with 5 other people, including Ron Jackson. They were "jingle writers".
Clarence claims he wrote a lot of the old car jingles our parents remember.
Then he goes through a few he wrote back in the day. None were familiar, but lyrics sound interesting.
Finally, Clarence tells them he can freestyle any jingle if they threw a product at him, and he delivers.
Our player requires Flash. Non-flash devices use the Listen/Download link below.
Listen/Download Audio[adrotate group="1″]