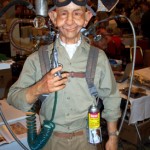 Right when you are ready to hear about women's college golf talk, Clarence Murphy has to bust in and interrupt Spanky Miller's sports talk.
He begins telling about how he was packing his junk in the boiler room into his pants. 😐
Then he wants to tell about how he was the original Man vs Food star.
Supposedly he took on Clarence VIII in a funnel cake eating contest.
Has several other funny stories. Good ole Clarence.
Our player requires Flash. Non-flash devices use the Listen/Download link below.
Listen/Download Audio[adrotate group="1″]