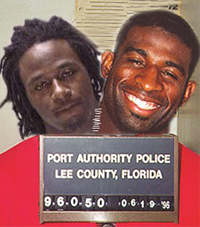 In case you haven't heard, Deion Sanders has become the private life coach for one Pacman Jones. I'm sure Jerry Jones talked Deion into helping him out with the troubled NFL player.
During an interview, Pacman referenced being the new 'primetime', but said there is only one, he just hoped to be the new era of the name. To that, I couldn't help but put the "Brangelina" marriage of the names and came up with:
SLIMETIME
Trust me, I want this to work out like the Owens situation. He's a great player, just loves titty bars. (Who doesn't!)
The fake Slimetime called into the Musers this morning and here is the interview:
Our player requires Flash. Non-flash devices use the Listen/Download link below.