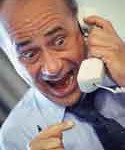 Norm loves the NFL draft.  Norm also loves arguing with callers.  So what happens when a caller with a lousy draft point tries to argue with Norm?
Ten minutes of classic, excruciating Norm caller blow-up gold, that's what.  (Fast-forward to the 5:00 mark for the payoff)
Enjoy.
Our player requires Flash. Non-flash devices use the Listen/Download link below.
Listen/Download Audio[adrotate group="1″]
2 COMMENTS