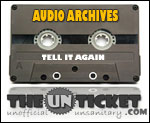 Corby brought some laughter to fun with real audio.
His buddy leaves a crazy message laughing at something no one knows.
Worst laugh in the world, which I posted the video here yesterday.
Wicked witch laugh, then a huge laugh off.
Our player requires Flash. Non-flash devices use the Listen/Download link below.
Listen/Download Audio[adrotate group="1″]