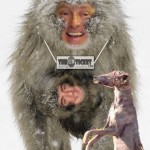 Musers spoke with the great Nolan Ryan about upcoming Rangers promotions.
Whores and hot dogs night. Cougar night, women and cats.
And of course, Snow Monkey night. Nolan will sign foreheads and make love to you.
Chupacabras are a new interest of Nolan. Could be a new passion?
Tom Hicks wants to have a Unicorn night. Ron Washington has a weird request too.
Our player requires Flash. Non-flash devices use the Listen/Download link below.
Listen/Download Audio[adrotate group="1″]
2 COMMENTS