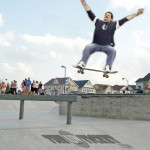 Mark Cuban, former kicked off contestant from DWTS (dancing with the stars), former bad reality tv maker, former loser of buying Chicago Cubs, current person up on insider trading legal woes, past seller of Broadcast.com for Billions of dollars, current president of MFFL, current player in HDTV (great channel!) but is most importantly the current owner of your, Dallas, Mavs. (yeah I know, stolen)
He spoke to the Musers today about calling out his Mavs team after they embarrassed themselves and the city losing to the Oklahoma City Twisters (i know). He tried to explain what he is telling his team will happen if they don't show a little effort.
They will have to dance with Cuban. Luckily for them, Mark said he'd dress up and be the girl, and lead, but they can be the man.
Then, after a few shocking comments about himself and plans for himself, he shocks us with news that he brought someone back to help. Can you say, "Beeruh's" ??
Our player requires Flash. Non-flash devices use the Listen/Download link below.
Listen/Download Audio[adrotate group="1″]