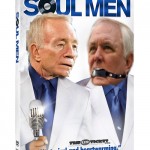 Fake Jerry Jones and Fake Wade Phillips paid a visit with the Musers today.
The gag has been lifted from Wade, although he says he never had one to begin with.
Jerry hoped Wade would read the lines he gave him, but he wound up talking about biscuits and ham.
Then gave the truth about why T.O. was cut. And that the new 'stagia' was breaking him.
Our player requires Flash. Non-flash devices use the Listen/Download link below.
Listen/Download Audio[adrotate group="1″]
4 COMMENTS