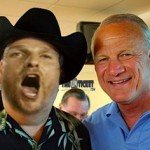 Little outdated, but still funny. Fake Switzer & McConaughey talk Texas vs OU.
Fake Switzer tells stories about old games. Rambles. Has lots of names and memories to compare.
Fake McConaughey talks stoner talk. Nudity. Drinks. And definitely women.
Our player requires Flash. Non-flash devices use the Listen/Download link below.
For show podcasts and other segments, visit the uSave.it Archive page.