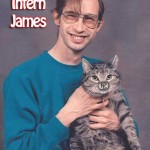 The more I hear his voice, with the Andy Panda drops in the background, the more I think they were separated at birth!
Gordo had a segment with Norm's intern, James. He was to ask Gordon a sports question.
Of course, we all know Gordon knows as much about sports as the real Andy Panda.
Does Intern James have "baby voice" ??
Our player requires Flash. Non-flash devices use the Listen/Download link below.
For show podcasts and other segments, visit the uSave.it Archive page.